By: Hawa Wesseh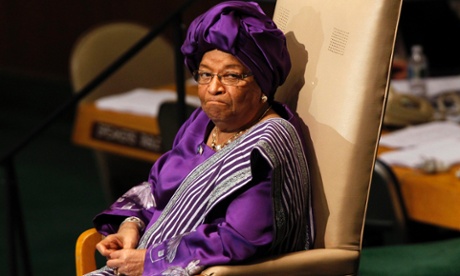 Liberian president, Ellen Johnson Sirleaf says her public officials are assuming their responsibilities in the country at a time when the political environment is a difficult terrain in the country.
The Liberian president made the remarks this week when she commissioned 27 government executives including former controversial city mayor, Mary Broh who now heads the General Services Agency (GSA), a department of government that purchases and manages assets for the government.
The president said "today, you are assuming public service and responsibility in a difficult political environment when those who wrongly accuse, defame and attack you become the victors," said Ellen Johnson Sirleaf.
Relations between the Sirleaf administration and the Liberian press corps have gone sour, according to reports. The Liberian government and president Sirleaf have come under national and international condemnation for jailing and indicting FrontPage Africa Editor, Rodney Sieh under a libel suit brought by former Agriculture Minister, Chris Toe.
Mr. Toe was awarded 1.5 million judgement last month in the Liberian capital, Monrovia. The Committee to Protect Journalists (CPJ), concerned about the editor's detention, wrote Sirleaf recently saying "The excessive libel damages imposed on Sieh for reporting the findings of a government inquiry on corruption, his jailing, and the closure of an important independent newspaper, are a blow to press freedom and the fight against corruption in Liberia." The CPJ continues, "We believe the punishment meted out against Frontpageafrica is disproportionate and that the case is tainted with political undertones," but the Liberian government has taken exception to those claims.
In an official Liberian government rebuttal to Rodney's article written for the New York Times, Lewis Browne, Sirleaf's information minister said the Liberian government could not release the FPA Editor because Liberian laws were being upheld, "contrary to the painted picture of doom, Liberians are hopeful, a culture of rule of law is being deepened, and freedoms, including of speech and worship, preserved. We will not reverse course." Mr. Browne is a former National Security Advisor and former Foreign Minister under the dictatorial regime of former Liberian president, Charles Taylor.
President Sirleaf is on a state visit to India this week where she is expected to meet Indian officials and seek investment opportunities for her war-scarred country. Her critics back home accused her of nepotism because three of her sons hold high governmental positions in the oil, security and banking apparatus but, these concerns have not deterred the Noble Peace Prize laureate. While commissioning her newly admitted executives into the government she told Liberians, "When you adhere to the principles of your upbringing and your faith, you become a victim of blackmail and extortion; when hustlers become heroes through poisonous pens; when you refuse to join the clamor of rumor-mongering and lies, your silence is mistaken as weakness to be exploited."
Libel suits from Liberian government officials and president Sirleaf herself have been on the rise since Sirleaf came to power in the West African country. Analysts say the president's recent remarks in which she referenced hustlers with poisonous pen could be a direct reference to the media which have aggressively reported on corruption and nepotism within her government
Pic: President Sirleaf is Photographed: Keith Bedford/Reuters